Willy Chang - The person and The pilot
Leif Wahlberg - ECP (THE BOSS)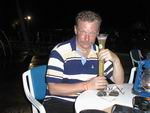 No, that is not me - The Boss is placed on the top as age before beauty is still valid.
Always holding on to something so he won't tip over.
Willy Chang - Line Schwein B747-400
Yep, that's me.
This is where it all started after the upgrade to be a Captain on a commercial jet airliner.
Actually it started a lot earlier - sometime in the 50's, must have been late 50's or maybe even later when I think about it.
With parents in the Hotel & Restaurant business it was not deemed appropriate to just go out in the wide world and fly airplanes, something I would probably just do for a few years and only for fun. So everybody, or at least my parents, thought I should have a proper education and background first.
So there I was, doing Hotel & Restaurant schools in Switzerland and also studying German and French at various institutions.
I really learned how to enjoy a glass of Cognac and I can still whip up a meal when needed.
In the mid 70's I started my career in the big airlines - Scandinavian Airlines (SAS) and NO, I was not the guy sitting in the left hand seat. I was the guy filling his cup with coffee. I did this in a variety of aircraft - DC-8, DC-10, B747-200, DC-9 and MD-80. Yep, I know how to talk to people.
I finally got a shot at the right hand seat.
In the regional daughter company - SWEDAIR - a 340 , SAAB not Airbus.
So, life goes on and in 1993 I take the big step and go over to an island far out in Asia. Actually Leif told me to get my behind out here and pronto.
Now after 8 years out here I have managed to survive not less than 4 type conversions - MD-90, B767, MD-11 and B747-400 and this in the left seat getting my cup filled with coffee by some very young Chinese ladies - Double Cappuccino lately, if I am nice and ask politely. There is an Espresso machine on the B744 - life is good.
So now in early 2002 me and a few select friends have started a new company working with international business connections. We are presently working with oil, mobile phones, wood and paper. If anybody has any other ideas let me know - Thank you.
Computers also take up a big part of my life but more on that is covered under the My Interests section
Willy
About Willy Chang - The person and The pilot.
My interests - No, not all of them
This site was last updated 04/16/09